cameleon V3
digital throttle for paramotors
Cameleon V3 was designed to facilitate the action of the OFF switch, the engine speed is controlled by the middle finger. The 5 fingers of the hand can be released instantly, and the  grip of brakes and hanger at take-off  is similar to that of paragliding.
CARACTERISTICS OF THE CAMELEON V3 THROTTLE :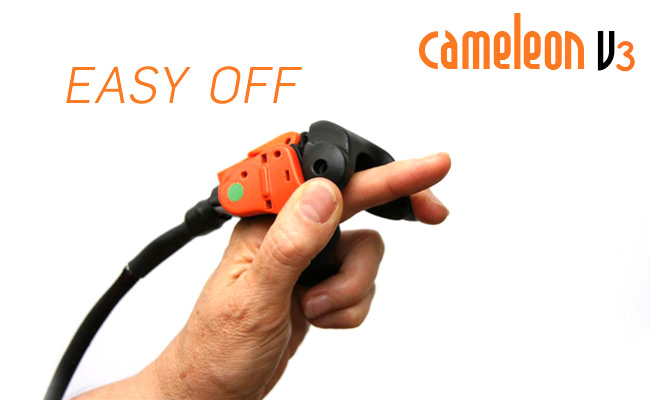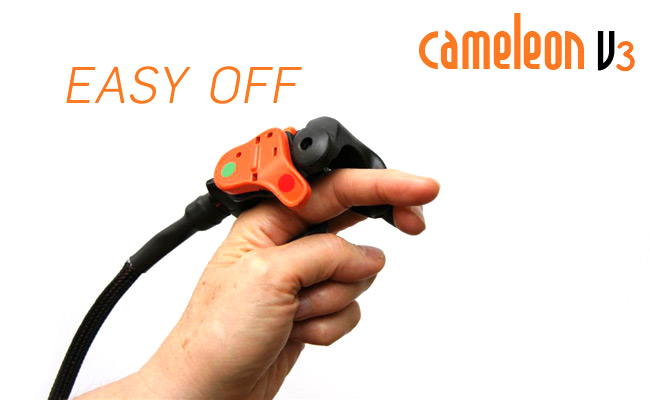 All the features of the V2 version are listed on the V3:
# Unbreakable material, PA66 modified
# Right or left version
 # Maximum travel capacity: 35 mm 
# Cruise control notched, adjustable
# Hand strap and wrist strap delivered in the kit
# Length of sheath and cable provided: 2 meters
# Installation and user manua
cameleon V2
digital throttle for paramotors
Historical best-seller and first professional digital handle on the paramotor market in 2008, Cameleon V2 is to be preferred if you need the index to control the engine speed.
CARACTERISTICS OF THECAMELEON V2 THROTTLE :
Right and Left version
0 to 35 mm travel on the carburettor
Cruise control (système de blocage des gaz) cranté
OFF toggle circuit cut-off switch (lock in OFF position) accessible with the thumb
Switch ON shutter release  halfway on the starter (absolute safety requiring to start reduced throttle)
Designed for grip with glove
Cushioning foams provided for personal adaptation of the Cameleon to your morphology
Extendable velcro wrist strap
8-position control gachet
Steel cable clamp included, possibility of mounting the control cable in both directions, crimping of the end of the cable on the carburetor side or on the cameleon side
Comes with 2 meters of cables to adjust as needed
Comes with ends of the duct on the engine side
Installation book